On August 26th, a charity event called
"En kväll för medmänsklighet"
(An evening for humanity)
will take place at the
Filadelfiakyrkan
(Filadelfia Church)
in Stockholm. The event is dedicated to the hundreds of thousands of Christians, Yazidi Kurds and other civilians who were forced to flee from the Islamic State (IS) atrocities. The United Nations estimates that 1.2/1.5 million people have escaped from the autonomous Kurdish region in northern Iraq during the latest months. The situation has escalated in recent weeks while resources are not nearly sufficient.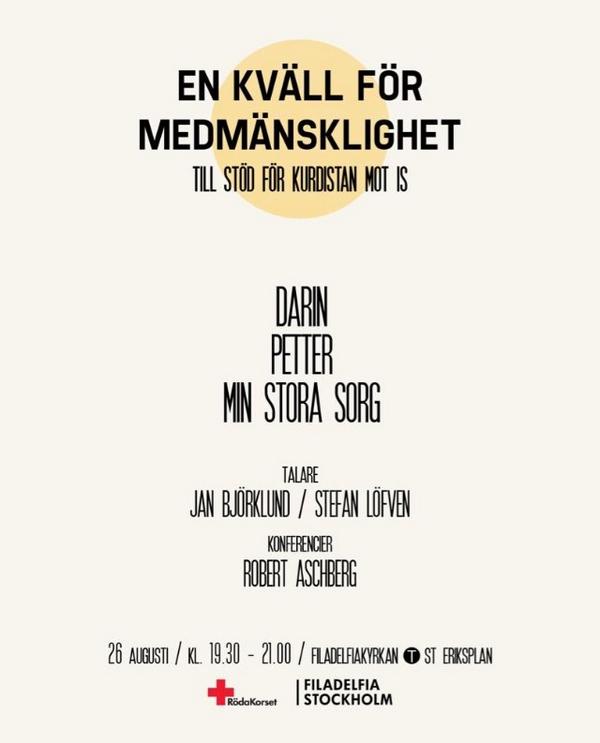 Darin
will be one the performers, together with Min Stora Sorg, Petter, Simon Emanuel and other artists. About the event, he said:
"I hope that more people in Sweden will open their eyes to the situation. I know a lot of them who are on the run or have relatives in Kurdistan. People can't understand how bad it is. Every crown makes a difference."
All revenues are going to be donated to the Red Cross which will provide the civilians with medicine, food and essential supplies.
The ticket costs 200 swedish crowns and it can be purchased
here
or at the ticket desk inside the church, besides it will be possible to donate extra money during the evening. The show will start at 19 CEST and end at 21 CEST.